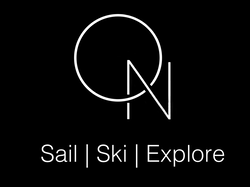 Olly Norris, Director
​A professional Sailor, Skier, and Mountaineer, Olly's knowledge of leading people in challenging alpine and maritime environments combined with his experience of coaching teams to perform in the most competitive arenas ensures that each client receives the best possible support from their first turns on snow or first day afloat, to ticking off their first alpine objective or offshore sailing race. His love of teaching and coaching is apparent through his patient and meticulous approach, and he enjoys the chance to teach all range of abilities.

Hooked on the concept of adventure through sport, once he's developed your personal performance, you can guarantee he'll be persuading you to go ski touring in Iceland, sailing around the Arab Peninsula, or climbing in Norway.

​Qualifications
- Swiss Snowsports Professeur de Sport de Neige avec Brevet Fédérale (ISIA)
- Swiss Snowsports Instructeur du Telemark (Deuxième Engin)
- British Association of Snowsports Instructors Alpine Ski Instructor
- British Association of Snowsports Instructors Telemark Ski Instructor


​
​- RYA/MCA Commercially Endorsed Yachtmaster Offshore
- RYA Racing Keelboat Coach
---
Ben Proudlove, Climbing Instructor & Expedition Leader
Ben Proudlove is a highly qualified and experienced outdoor and physical activities educator and professional, with exemplary teaching, practical, communication and organisation skills. Before moving to the mountains, Ben worked as a school teacher having gained QTS at The University of Wales following his first degree in Outdoor Education from Liverpool John Moores University. He has a rare ability to inspire and motivate, and believes strongly in the importance of customer service and creating memorable experiences for guests, be that on the mountain or on an expedition.

​He has led six international expeditions to Morocco, Borneo, China & Mongolia, Malawi, Morocco and Costa Rica and has worked for 12 winter seasons as a ski instructor in Italy, Japan, New Zealand and Switzerland. Three summer seasons were spent teaching outdoor activities, for Acorn Adventure (Narbonne, France), Aerial Extreme High Ropes (Knowsley, UK) and Rock & River (Mawdesley, UK). Activities included climbing, kayaking, high ropes, mountain biking and team building.

Qualifications
​​2016 - Swiss Snowsports Patente and Brevet Federal (Fully certified)
2015 - QNUK Level 2 Award in Activity First Aid (QCF)
2012 - Duke of Edinburgh Assessor
2010 - Mountain Leader Award (Summer)
2009 - Single Pitch Award
2009 - Paddlesport Performance 2* Award


​2009 - Foundation Rescue and Safety Training (Water)
2009 - BCU Level 1 Canoe and Kayak Coach
2008 - AVMS Italian Verification to instruct qualification
2008 - Orienteering Level 2 Teacher
2003 - Military Training Qualification (MTQ Level 1)